Download JRebel: Free for 14-Days
Download JRebel free for 14-days & see how enjoyable coding Java is when you don't have to restart while changing class structures, resource files & framework config. files.
For a limited time when you activate your JRebel trial license you'll be entered to win a trip for 2 to GeekOut 2013 – The Geekiest Java Tech Conference in the World!
Terms & Conditions
---
JRebel integrates directly with your IDE, and can be setup and configured in just 5 minutes.
Follow the steps below to Download JRebel:
Complete the JRebel Activation Form
Copy the Activation Code to your Clipboard
You'll need to paste it into the configuration wizard (inside your IDE) in the next step.
Add JRebel to Your IDE (Eclipse, IntelliJIDEA, Netbeans)
Download the IDE specific instructions below, and launch your IDE to get started:
Thats all there is to it. If you have questions about JRebel call 1(857)277-1199.
---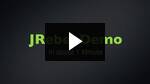 1Min JRebel Demo
---
If you're an existing customer looking for a previous version of JRebel, the most recent nightly build, or information about the JRebel License Server use the links below:
Download a ZIP

I already have a license